What a character!
The ampersand originated as a combination of the letters "e" and "t" to represent the Latin word "et" which means "and." It's amazing to see how many variations of the symbol can be found in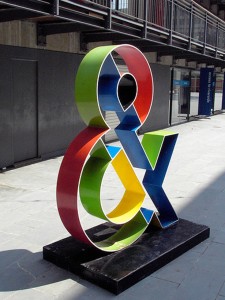 print and in the signage around us. Recently, the ampersand has experienced a bit of a revival in logo design and also in texting and programming language. Many typefaces give it an elegant treatment (as shown above). The character can stand alone as a decorative element in clothing and housewares, or even as a public sculture. This unique character has great versatility and flair!
If you'd like to see more ampersands in print and photos, please read this interesting online article History of the Ampersand.
http://anneswansondesign.com/wp3/wp-content/uploads/2014/04/as_banner1-300x111.png
0
0
Anne Swanson
http://anneswansondesign.com/wp3/wp-content/uploads/2014/04/as_banner1-300x111.png
Anne Swanson
2011-02-15 09:50:28
2014-06-12 13:54:48
The Ampersand