Designer's Eye is a series of articles in which I offer a graphic designer's view of the world.
Let there be light!
Ten years ago, we moved into a house that has a very large front door with an ornate leaded-glass panel. Though it was not our taste, we received many compliments from friends and visitors about the door. After years of slamming and dog-jumping, the glass panel began to bow outward. Each knock or visit from the mail carrier caused me considerable anxiety and dread.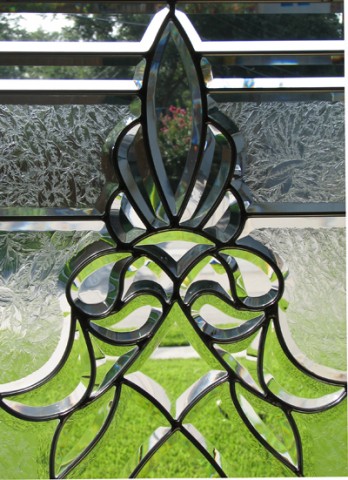 In a rare proactive moment, I decided to have the door repaired before it became a crisis situation. Naturally, I turned to the Internet, and after a quick search found Freebird Glass, in Cypress, Texas. I was fascinated by the beautiful photographs of work they'd done in churches and homes in our area. It's also a family business that has been passed from father to son. Scott Eaton, the owner of Freebird Glass, convinced me that this door was one of a kind and worth salvaging. I was eager to have these talented craftsmen restore my door to its former splendor.
The workman, Nick, came to remove the glass panel. Because of the size and complexity of the job, the panel had to be taken to the workshop to be restored. After removing the panel, Nick placed a sheet of plywood in the center of the door. I was surprised and a little bit saddened by the sudden darkness in the front hallway. The inability to see our visitors (before opening the door) was also a bit disturbing.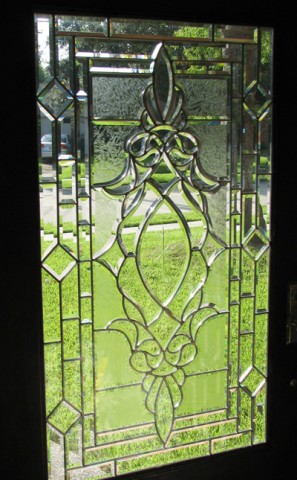 After two weeks, I got the call. The glass was ready to install. The next day Nick arrived to place the finished piece back into the door. My first glance at the door took my breath away. Each bevel sparkled in the morning sun, and the effect was spectacular.
Now I'm in love with the door. Somehow, the act of having an item rebuilt brought me a certain pride and newfound appreciation. So often, we find that we must replace instead of restore. But I've learned that there's great satisfaction in making the effort to bring something beautiful back to life.
http://anneswansondesign.com/wp3/wp-content/uploads/2014/04/as_banner1-300x111.png
0
0
Anne Swanson
http://anneswansondesign.com/wp3/wp-content/uploads/2014/04/as_banner1-300x111.png
Anne Swanson
2010-07-19 11:00:15
2010-07-19 15:24:34
Work of Art