Designer's Eye is a series of articles in which I offer a graphic designer's view of the world.
Learning from a Mistake
A few weeks ago, I had the unfortunate experience of discovering an error in a printed piece I had designed. As I looked back on the project, I realized that several missteps occurred along the way and resulted in a product that disappointed me.
Problem #1: The layout was sent to the printer during the week between Christmas and New Year's Day—a time when all of us are a bit distracted.
Problem #2: A technical glitch resulted in "what you see is NOT what you get."
Problem #3: The client, the designer and the printer all overlooked the mistake on the final proof.
When I received the piece in the mail (yikes!) it was obvious to me there was a HUGE problem. I hurriedly called the client. Cheerfully, he responded "yes, we noticed there was an error" and "we decided that we didn't have time to have it reprinted, so we mailed it." And the best part? He could live with it!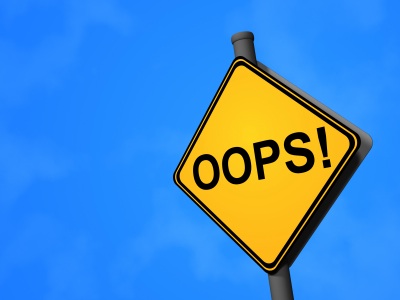 Wow! What a wakeup call…here I was grinding and gnashing my teeth and throwing my hands heavenward, expecting the worse. He was gracious and understanding and, best of all, he blamed no one. It was a simple act of moving forward and not looking back.
To make amends as best I could, I did not charge for the design work I did. He has been a wonderful client for many years. His business and friendship mean so much to me. When I send him a design, often his first words are, "we love it!" And make no mistake—that makes it all worthwhile.
http://anneswansondesign.com/wp3/wp-content/uploads/2014/04/as_banner1-300x111.png
0
0
Anne Swanson
http://anneswansondesign.com/wp3/wp-content/uploads/2014/04/as_banner1-300x111.png
Anne Swanson
2010-02-09 10:00:33
2010-06-02 10:44:13
Human Error